166.
October 17, 2010
(Keshet/Truth Serum's New Jew Revue)
Our Chamsas may be tarnished, but
We're both fresh and clean
We just wanted to say
Shalom
!
And make a tiny scene (
so small
!)
...
My whole life feeling green around the gills
In green rooms has (not) prepared me for this
Cloying smell of talcum
Humid hairspray shared in the human reflecting pool
Counter-space ~ a mine field
The silver spandex lining tense
Accordion rhinestones eclipse the
Sequined red mouth of stage
Human mike stands on stained wood floor
Mascara wand nervey before smoke
Break, performer-drink, sliver of mirror to wink at
Suzuki drop outs dramatic entrance
With speculii and rosin, tadpole throats
Coughing Yiddish, Haftorah portion jitters
Would make anyone mute on the 1/2-sized fiddle
The ritual
nom de plume
in perfect reverse
Shadows of majiscules-- English &
Alef-Bet
An ambivalent hiss at Holocaustic remark, OK
Just living up to the Jazz Singer
Stereotype, flirting with zaftig curls, colourful bracelets
What else are two nice genderqueering Jewish
goirls
going to do
Besides get writing degrees, wear black?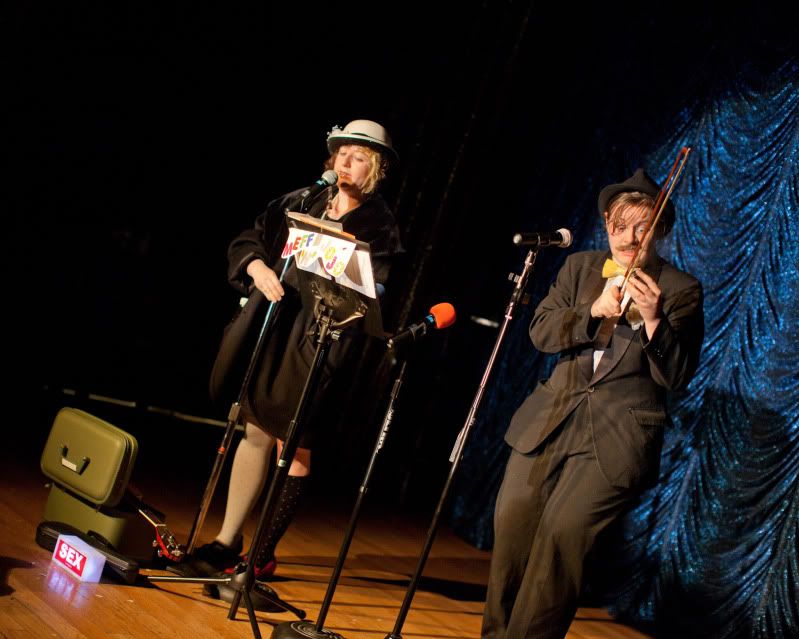 sneak peek of ze revue graciously taken/shared by dear photog
David Aquilina
(incendiary incidentally his #
LNFC
pix are up)
i had such a lovely time sharing
this
bill
w.
Kielbasia
&
shelly Mars
(poet performance artist to the max!!!) to name a few, (& surprise BrU guests in the audience i used to do stage makeup for) i feel very blessed w. the places/people/opportunities us no good tiny instruments have gotten up to and into and invited to do in but 3 months of proper existence as a project. those Slomski Brothers and Broken Toys are a terrible influencenabling double feature of "friends" to keep. hmmph. ;)
week24 (c'est fin) :
1
,
2
,
3
,
4
,
5
,
6
http://locksmithy.livejournal.com/tag/poem-a-day
http://poetesss.tumblr.com/PAD