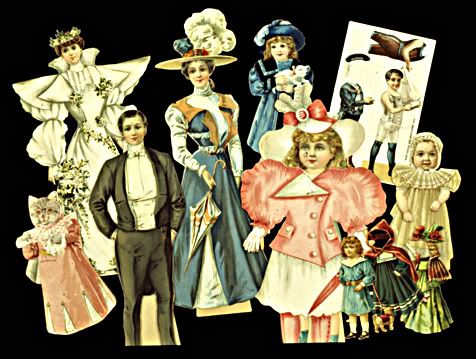 .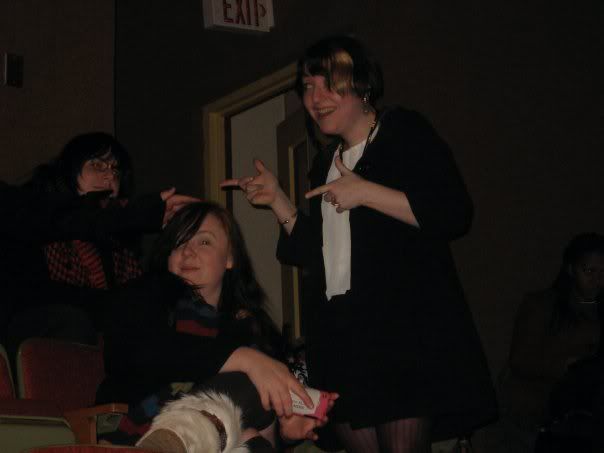 (my own grad/reading this past Jan. w. some of the lovely friends there to hear me- meff,
edrie
as captured by my seester
jesserker
)
60.
July 1, 2010
(past thurs.)
Paper doll doubles unfurl in my mind, party favour
memories of creative writing readings
i've sat and sweat through in the past three years
i've watched other graduates read by boring
ink-wells into my purse-journal of the moment
with fine pointed pens, snippets of quotes
i repeated to the humid jeweled flowers
in front gardens, the bourgeoise jungle
of Cambridge cottages i'd circle around
my university to smoke and sweat out
the extra syllables. Listening to volcano-chasing,
carving the canyons of a cracked woman's face,
fighting off ill-tempered garden gnomes,
young geniuses attending MIT with older sisters
for zoo-keeper-- none of these a bit like my own
eventual reading where i wasted plenty of
time turning pages in my little goth riding cloak
(hood down, bangs hiding my face enough)
skipping through my manuscript trying
to find the medium-spicy poetry.
*
i let my smart phone glow in my palm
as i stare below the giant flat screen
reflecting the space devil's influence.
A refined, Latin speaking space crew driven
to ripping each other apart at the soft red
seams. Black holes are a terrible influence.
Event Horizon, only moderately so...
Bosch like horrors, Hieronymous really.
i can't believe the art directors thought
after sub-zero gravity fire, what this film
really needed was maggots to close the deal.
+
thank you
walter sickert
for traumatizing my week with an event horizon party. i'm really glad i didn't eat more sushi beforehand...
week9:
1
,
2
,
3
http://locksmithy.livejournal.com/tag/poem-a-day
archived on
poetesss.tumblr
:
week1
-
week2
-
week3
-
week4
-
week5
-
week6
-
week7
-
week8
weekly archives ~
http://poetesss.tumblr.com/tagged/poem_a_day
my
poem-a-day 'llustrations